Shall we Dance? Building Community and Bridging Cultures
Photo by Riz Herbosa
By Melissa Sawatsky
There is something in the instinct to dance that activates a euphoric feeling of connection to both our own bodies and to each other.
In my 20s, there was the ritualistic dancing in the dark belly of nightclubs and all-night rave parties, or amidst large crowds at outdoor music festivals. More recently, there is the reliable release into movement at the end of a wedding celebration, or turning on my favourite tunes to groove around my house when I'm alone.
For years, I have referred to myself as an amateur dancer and a professional audience member. Though passionate about dance my entire life, my performance experience ends at community recitals and flash mobs. For the most part, I dance in the midst of community.
Dance contributes to both the creation of culture and to community building, according to Smithers, BC-based dance artists and choreographers Miriam Colvin and Monica Kapelar. Colvin produces local arts projects through her organization, Myriad Dance Projects, and Kapelar teaches dance classes and choreographs local performances for both youth and adults.
Pathways into commonality
Colvin began dancing as a youth in Washington, DC. Her neighbour was a German-American immigrant who had set up a dance studio in her house. She encouraged Colvin to use props, costuming and creative makeup—to touch everything and incorporate it into creative movement. This proved to be an early link to some of the large-scale collaborations Colvin has since undertaken with visual artists and costume designers. For example, her multi-year project, Into the Current, saw community members wearing large masks, riding crafted fish bicycles and parading a gigantic salmon lantern around a local park.
After a stint of ballet classes that weren't the right fit, Colvin discovered contemporary dance: "All people who dance, especially young women, struggle with an expectation about what a dancer is supposed to look like," she says. One of her early teachers, Jan Tievsky, encouraged her to look at and accept her body as beautifully unique. She and Tievsky looked at themselves in the mirror, noting the differences between their bodies, and Tievsky advised: "You dance like you; I'll dance like me."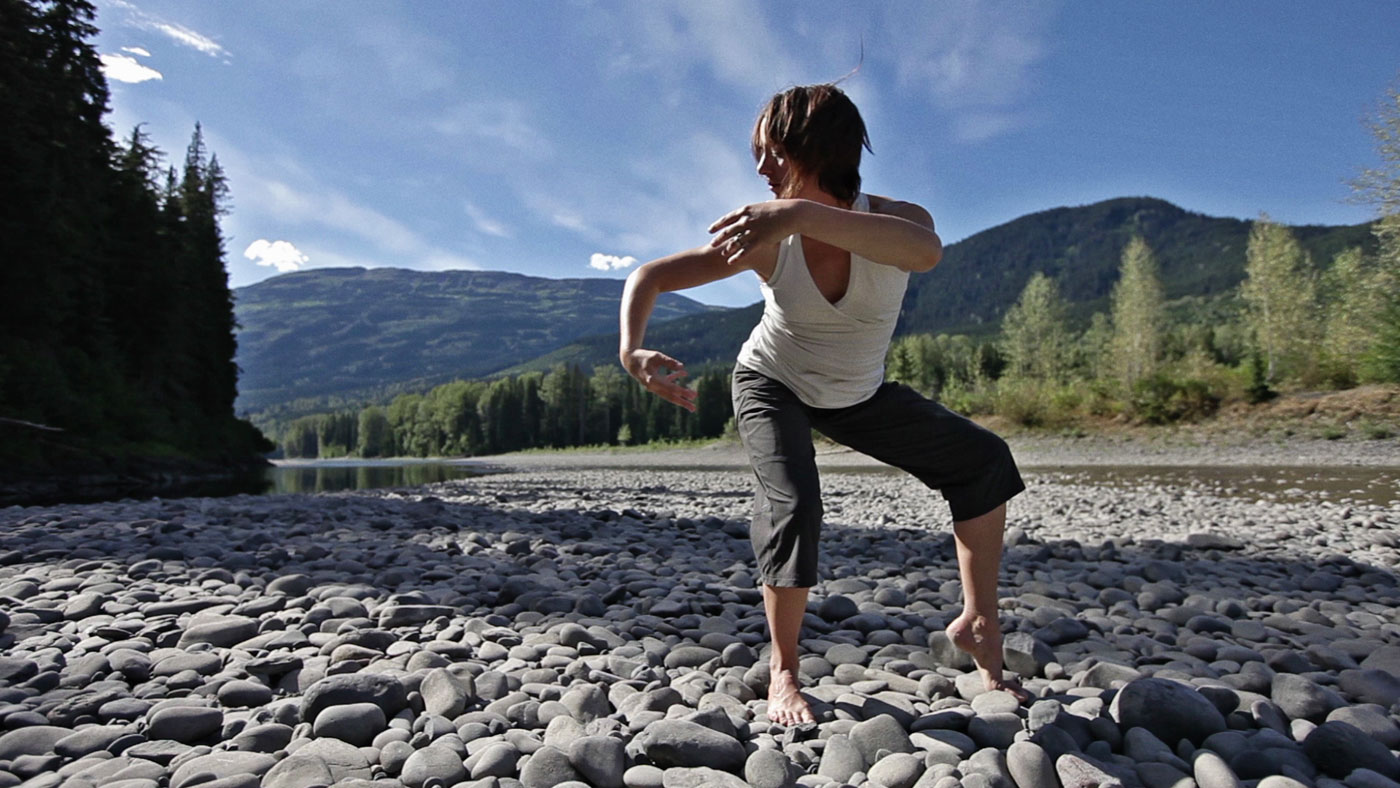 "You dance like you; I'll dance like me." Colvin explores movement near her home in Smithers, BC. Photo by Taylor Fox.
This is a poignant and succinct summary of what I see as a primary motivation and intention in Colvin's work: to support the co-creation of dance by posing an interesting question and then inviting others into that questioning. As she puts it, "When we dance together and share stories, we create pathways into commonality."
Kapelar shares a similar sentiment about the role of dance in creating connection and community. Reflecting on a decades-long journey that took her from Smithers to Berlin to Paris and back to Canada, she says, "What held me and made me feel belonging was dance." As a child, Kapelar started training with Susan Roberts, a former dancer with the New York City Ballet, who held classes in Smithers. Kapelar was in Grade 11 when Roberts left the community, but she nonetheless took it upon herself to continue running the school (a job that also included costume design and set creation). This formative experience set the stage for her career as a professional dancer.
Kapelar danced with a variety of companies in Canada, Germany and France before returning to Smithers as a dance instructor and choreographer. Throughout her years abroad, Kapelar admits to experiencing periods of culture shock and alienation. Nonetheless, she recognized that through dance, everyone around her was coming from a similar grounding, which served to create an international language. "Your body is the language," Kapelar says.
Stepping outside the circle
One of the dance projects Colvin produced after moving to Smithers was Circles, which she followed up with Expanding Circles. The inspiration for these projects came from Colvin's observation that while there is a lot of diversity in Smithers, it is easy to stay inside the "circle" one is most comfortable in. She wanted to find out: "What happens when we step outside our circle?" So she challenged herself and other community members—many of whom had never performed before—to explore that question and push themselves beyond their comfort zones. One of the answers that arose had to do with how we can create shared culture through collaboration.
"As people from many different circles came into movement, we recognized where our cultural pathways intersected," Colvin says. Similar to Kapelar's observation about the body creating and speaking its own language, part of what dance appears to do is create connections and commonalities we may not be able to recognize or access through other modes of expression.
…part of what dance appears to do is create connections and commonalities we may not be able to recognize or access through other modes of expression.
When Kapelar was living in France, she joined a company run by Wayne Barbaste and made a transition from ballet into contemporary dance. She refers to this shift as a huge step outside her previous circle of comfort in the ballet world. "I had to look at myself and movement from a completely different place," she says. During this time, Kapelar performed jazz, African and gospel pieces, among other styles. She shares that, "The movement, music and history behind gospel music and dance really inspires and speaks to me," and it continues to influence her choreography to this day.
Again, the vessel of dance and movement created an intersection and opportunity for cultural connection, which Kapelar is in turn passing onto her students.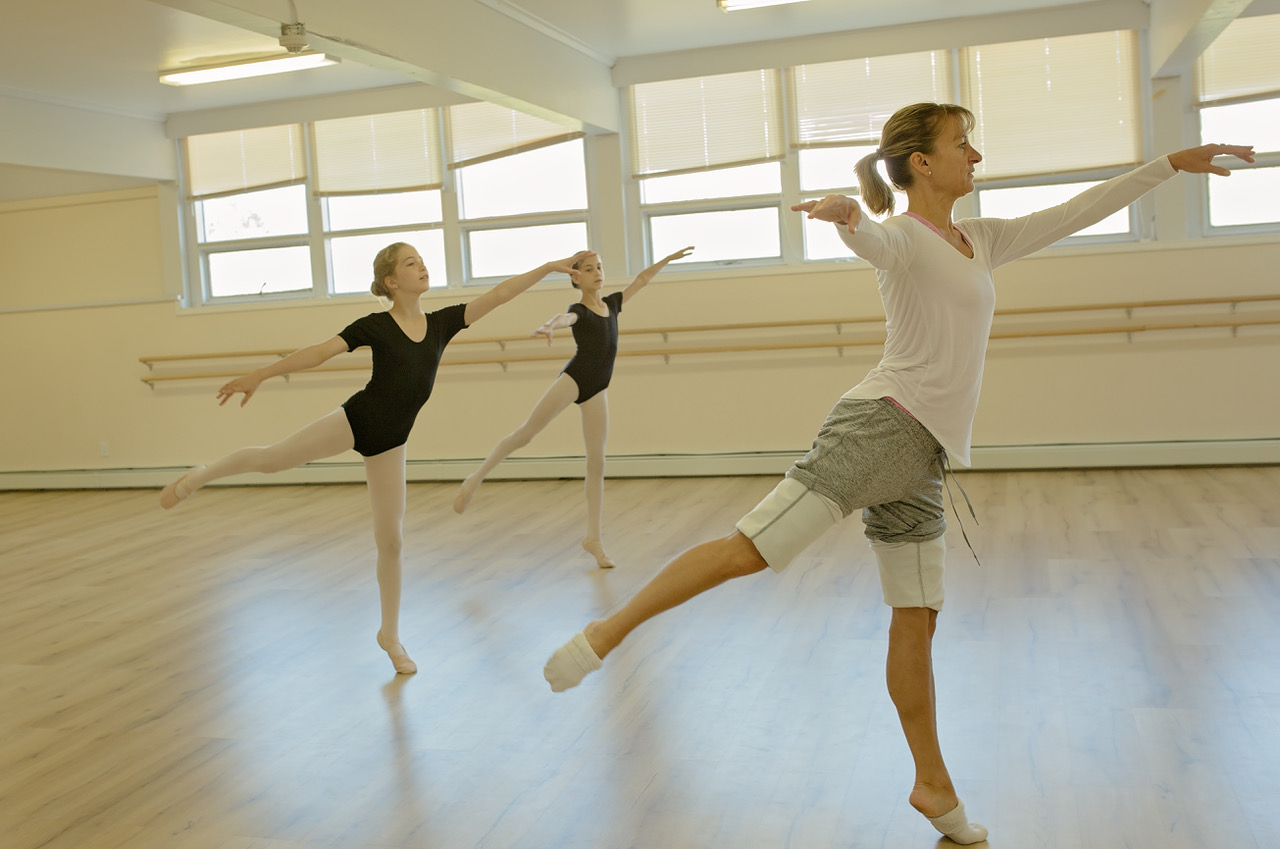 Dance and movement create an opportunity for cultural connection that Monica Kapelar passes onto her students. Photo by Ileah DiNardo.
Colvin and Kapelar both articulate the importance of creating a safe space for dancers to experiment with and explore ideas through creative movement. In her classes, Kapelar asserts: "I want people to feel safe, and that the space is their space as well." She encourages her students to experience and explore different ways of moving and to go to those areas they may not be comfortable with. "When you start to move differently, you start to think differently, and vice versa," Kapelar says.
Part of Colvin's method for facilitating a safe creative space is the expanse of time she allows for her projects to germinate and develop, some as long as two or three years for research, creation and performance. This allows for relationship building and trust to develop between everyone involved.
An invitation
"Would you like to dance?"
We've likely all heard or uttered these words at some point in our lives. How would you answer? Who are you asking?
As a former dancer resigned to being a professional audience member, I have somehow in middle age found myself answering yes. In 2016, I donned a mask and costume to improvise in Colvin's collaborative processional spectacle, Into the Current. In 2018, I am working out the kinks in my rusty joints on a weekly basis as Kapelar encourages me to push past discomfort and find a new way of moving.
Both of these experiences have helped me deconstruct an outdated and externally imposed concept of what it means to be a dancer. As Colvin began asking early on in her career, "Who's not on stage, why not and how can we include their voice?"
In their own way, both of these dance artists are endeavouring to democratize dance and blur the line between audience and performer.
So, shall we dance?
Melissa Sawatsky is a writer currently living on unceded Witsuwit'en territory in Smithers, BC, where she works at the Smithers Public Library, as well as serving on the board of the Bulkley Valley Community Arts Council. She also facilitates creative writing workshops for young writers. Her work has appeared in Room Magazine, Northword, The Maynard, Poetry is Dead, Sad Mag and Rhubarb, among other publications and anthologies. She has an MFA in creative writing from the University of British Columbia.