Clean Drinking Water for All (SOCIAL MEDIA SPOTLIGHT)
Photo by Kevin Haughton
For our first ever Social Media Spotlight, we're thrilled to present this celebratory Facebook post by Kevin Haughton. Kevin undertook a journey across the world and developed a sustainable and accessible way to provide clean drinking water to communities. Kevin shares insight on his process, where he got his inspiration, and how it feels to be making a positive impact in peoples' lives. 
"For many that aren't aware, I've been a busy cat working on a new project. This is something that I wanted to ensure was well underway before I shined a light on it, so to speak. I needed to be certain that it was perfectly developed and field-proven before taking the next steps and triggering a roll out, bringing it to those that require it. 
I'm a humble cat, and it's hard to explain this without the fear of sounding arrogant or egotistical. Those who know me, know that I am neither of these things. Here's how it all started: I decided that while the rock-and-roll life is ultimately fantastic, one should be mindful of what they wish for. I needed a change. This is by far the most gratifying thing I've ever embarked on. 
After travelling to the furthest regions of this earth and witnessing so many unable to obtain clean, safe water, I decided to walk my talk. I decided to do something wherein I could play a role in helping. Moreover, something that would actually effect change. I designed, developed and patented, a solar-powered, clean drinking water system. It has taken a lot out of me, as I have spent years trudging through the South American and Haitian outer metropolises wrought with civil unrest, and through the jungles with all form of bitey shit at my heels. Traveled to the bordering areas of Kazakhstan/Afghanistan/China and where we could hear the shelling in the distance. I'm here to tell you: I love it! While my whole family, meanwhile, sat at home trippin' out for my safety, not-so-much loving it.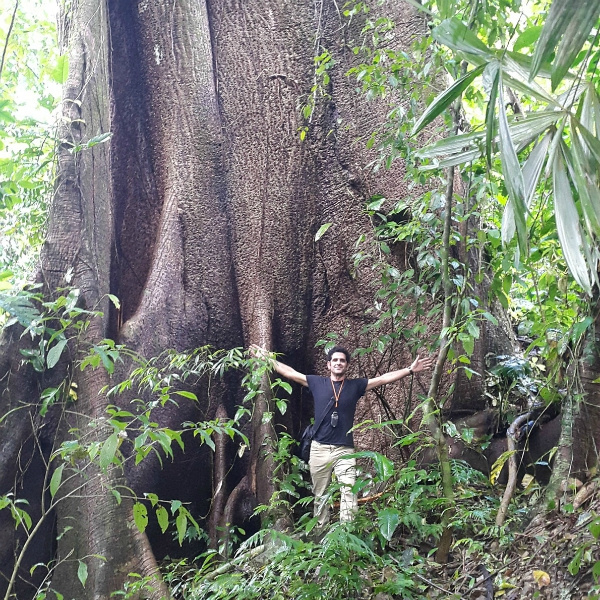 Kevin Haughton in South America. Photo from the author.
Using solar power and or wind power, the system is completely sustainable. It uses only natural filter media (no membranes or cartridges) and will purify non-potable raw water sources at a rate of about 40,000 litres per day. This provides enough clean water for 1,500 people per day. Media such as sand, zeolite, activated carbon, anthracite, bone char are utilized: all organic and all natural. Filters need only be 'repacked' once every 4 years, unlike cartridges that require constant, costly replacement. This makes the system very inexpensive to operate. In addition, unlike membrane systems that waste a great deal of water during their process, this system purifies every single litre filtered. 
It's also very easy to operate the system, and it is designed for use in remote areas of developing countries with less sophisticated operators. Managing and operating their own system provides a sense of ownership and pride in managing their own community's health and wellbeing. No longer at the behest of government delays, of the over-designed and overbuilt, complex systems that cannot be maintained readily, people that need potable water are getting it swiftly and efficiently. 
It is all housed in a 10 foot shipping container or ruggedized trailer that can be shipped and easily deployed anywhere in the world. It takes only three days to set up once on site. It is remote-monitored using cell or satellite communications and can be done so with a cell phone or tablet from any location. This means I can monitor the system's parameters from afar and mitigate issues before they become a larger problem. Troubleshooting can be done by way of onboard webcam and video link, wherein we walk the operator through the process if necessary.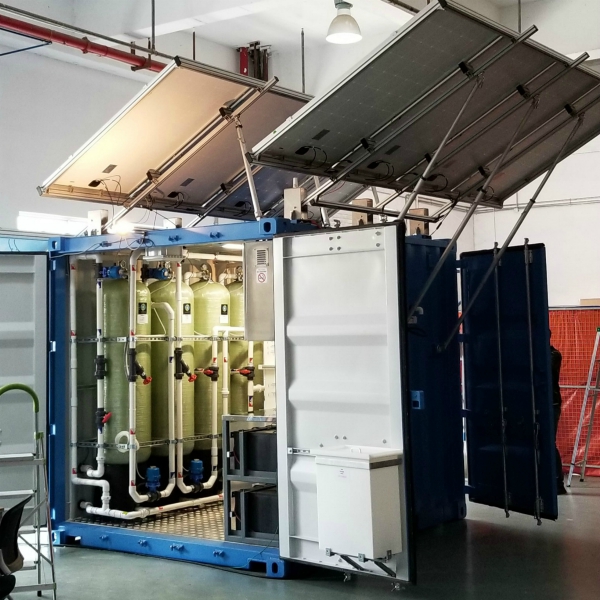 The water filtration system. Photo from the author.
By way of a flex hose and submersible pump deployed into ground or surface water (river, steam, lake, borehole or well) it draws water into the system and filters continuously. It removes all faecal/micro-bacterial, E.coli, cryptosporidium, oocysts as well as most metals and chemicals. For instance, we've successfully removed microbiological levels from water that was deemed 'un-swimmable', let alone 'non consumable', to 100 percent pure. 
By utilizing all-natural filter media, it essentially mimics the earth's natural ground layers. This then retains the good minerals that membranes and cartridges remove and leaves a fresh and wonderful tasting, clean water.
We now have a system operating in the far west of China providing clean water for approximately 700 young children and their families. We are in swing now and setting up facilities in the Comox Valley on Vancouver Island for manufacture and export. Our next targets for deployment are South and Central America and Africa. It's been a long road thus far. It has involved a great deal of stress, impasses, tears and, at times, the desire to just pack it in. I never did pack it in, and when I felt like I wanted to, I used the feeling to fuel the desire within me to press on and see it through. It's been a journey of discovery and innovation — an ultimately vindicating and fulfilling trip. We are also working on the ever-present issues right here in our own backyard with the First Nations communities that suffer from this same lack of life's basic right to clean water.
How did I manage to do this? My father. My dad was the smartest man I've ever met, and I have yet to meet anyone like him. To me, he was an enigma, and a man by whom others were to be measured. From day one as a young boy, he 'taught me how to learn', how to understand and how to create. I could ask him anything, and he knew the answer. He just knew. It rips at my chest to have not be able to sit my dad in front of this project that he ultimately helped create and say, "there, Dad, I did it…I succeeded because of you." He left too soon. I do feel he knows, and still sees — sees how he shaped my mind and sense of self to get to this place. My mum shaped my heart and made it ready in order to know where to bring what I've discovered. My wife and children are my strength as well — they stood behind me every step of the way, as I toiled and many times and came close to capitulation.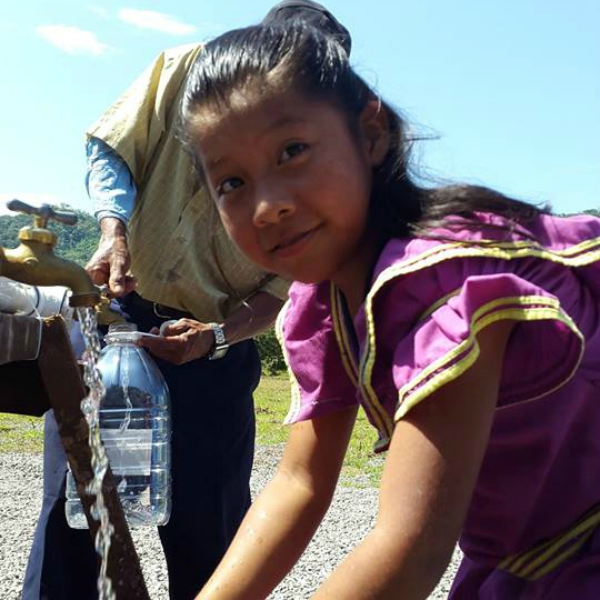 Clean water in South America. Photo from the author.
The greatest gift I've received from this is being able to provide a glass of clean water to children for the first time in their lives. To see their parents and grandparents receive the same is inexplicable. That alone, brings my heart to the very front of my chest. It's not money nor accolade I'm wanting — it's knowing I've done something to effect change in this world. 
I've always wanted my family to see that I was doing something meaningful, something they could be proud of me for and that  would bring a smile to their faces. I think I'm getting there."
More information about Kevin Haughton's project is available on Facebook, @CleanDrinkingWaterForTheWorld or at clearflo.ca. 
At Culturally Modified, we're excited about the ways in which social media creates a global community that helps the sharing of new ideas, projects, and movements. If you would like a chance to be featured in our next Social Media Spotlight, you can follow us on Facebook, Twitter, and Instagram and share your ideas with us.
Kevin Haughton has called British Columbia home for most of his life, and his travels have taken him to the furthest reaches of the globe. In addition to being a husband and a father of two girls, Kevin is a commercial pilot, a professional touring drummer and an inventor, among other things. Bringing clean water to the world is his proudest role yet. Kevin lives by one solid mantra, "if love is the truest measure of a man's wealth — this makes me the richest man that I know."