Culturally Modified Trees: When the Forest Comes Alive
By Jezelle Zatorski and Keli Watson
Sometimes, when your vocation is to walk through the forest and look for signs of the people who lived there, you find those signs watching you.
It is a powerful moment when you see the scars of culturally modified trees (CMTs) surrounding you, especial when they march out into the hundreds, and you can almost see the people whose culture you seek and how they also moved through the landscape, this forest, alongside you and your journey.
You may have a feeling of the generations of families, stories and memories that have also touched these trees, maybe wrapped their arms around them, too. You can begin to ask questions of these trees, these living witnesses to those earlier people who found sustenance, and who also created memories there.
Culturally modified trees are a well-known and extensively documented cultural feature in British Columbia's Central Interior. While there are several types of CMTs, the most common, by far, is barked-stripped lodgepole pine. The bark was stripped from the tree's trunk to collect the inner layer, the cambium, as a food source, leaving a scar that became a permanent feature of its trunk, marking it for generations to come. Most discussion and analysis of CMTs focus on scar identification to confirm cultural origin, scar description and recording, dating methods, and mapping and describing locales where large numbers of CMTs are found.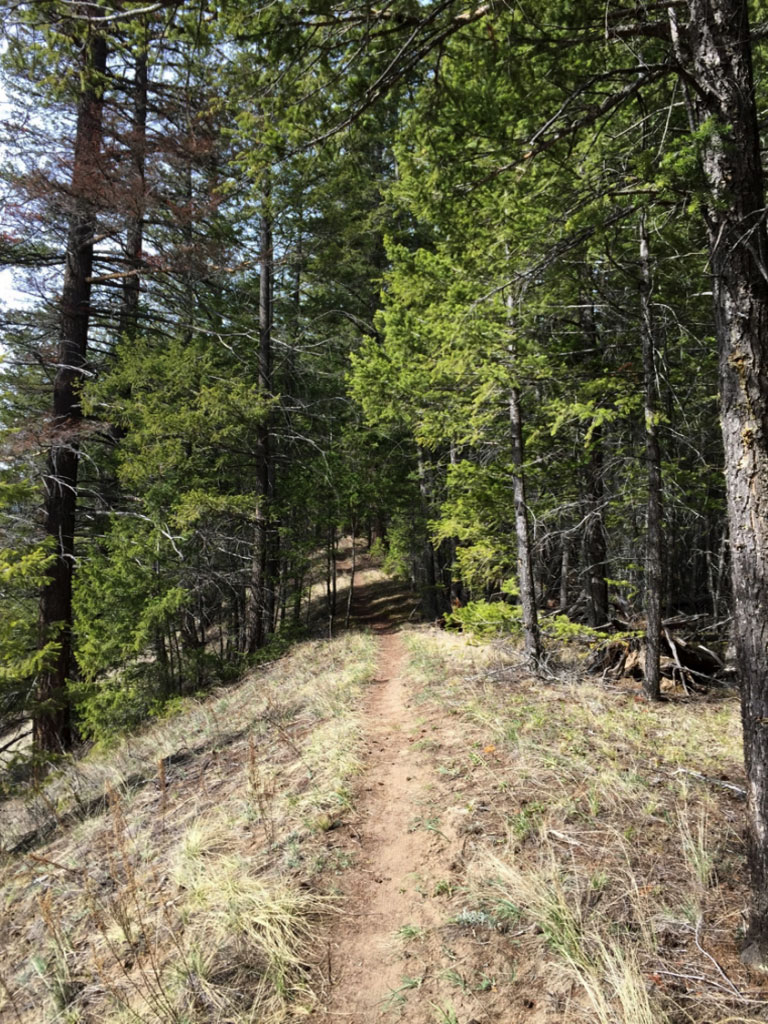 These sites become simply data points in an archaeological impact assessment. Most of them are not considered archaeologically significant and, therefore, documentation can be inconsistent and the information difficult to access. More importantly, very little research or analysis is ever completed, and the opportunity to learn what these trees can reveal is lost.
One key research dimension that has been lacking is an attempt to consider CMT sites as an integral part of the cultural landscape of the Central Interior First Nations, the Dakelh people. We explored the possibilities of a multi-phased approach, including a gap analysis and literature review of previous work, field visits and interviews of Dakelh residents, and the potential use of geospatial data to examine and describe CMT sites in terms of regional distribution and land-use patterns.
The Dakelh are known to have followed a seasonal round that focused on different resources in different parts of their landscape at different times of the year. Cambium collection is an important, and overlooked, part of their holistic interaction with and understanding of the surrounding landscape.
We looked specifically at the Alexander Mackenzie Heritage Trail/Nuxalk-Carrier Grease Trail, an ancient and well-documented trade route through the Central Interior, as a case study to demonstrate that much of this data has been collected in an area with incredible CMTs numbers, and yet with a lack of research, mandatory reporting and a centralized database, we are losing a major opportunity to deepen our understanding of a vast region and its many peoples.
Questions we can ask of the landscape and surrounding forest, ask of the trees that were scarred generations ago, will reveal people, stories and memories. Marrying Western science and holistic interpretation of CMTs and the living landscape will create a greater depth of understanding. Detailed data can show direction of travel, facing a trail or directed to a landscape feature, or a specific locale where the scars face a centre point. Using technological tools such as GIS (geographic information systems) or VR (virtual reality), we may be able to return this data to Dakelh people in a manner that will help to reconnect to the landscape where their ancestors travelled and lived.
We owe it to them to preserve, interpret and share the detailed records that are taken about their territory and their ancestors.
This piece is abstracted from ongoing research by Jezelle Zatorski and Keli Watson. Check back here for a link to the complete paper, once it's finished.  
Keli Watson has been studying and working as an applied archaeologist for over 20 years. Keli completed her BA in Archaeology of the Near East at Wilfrid Laurier University and her MA in interdisciplinary studies at the University of Northern British Columbia, where she combined anthropology with First Nations studies to apply practisable methods of involving First Nations rights and traditions with the practices of field archaeology and artifact analysis. Keli has had an exciting career in cultural resource management where she has worked as a lab manager, field director, project director and senior archaeologist on a variety of projects throughout Ontario and British Columbia.
Jezelle Zatorski has been a practising Indigenous archaeologist for 20 years in both British Columbia and Alberta. Jezelle studied at the University of Northern British Columbia and completed her BA in archaeology at the University of Calgary. Starting her career as a Dakelh First Nation assistant representing Lheidli T'enneh First Nation, Jezelle has continued on the path of engaging local Indigenous groups as a traditional knowledge facilitator and socioeconomic advisor in Indigenous community relations, and working on traditional land and resource use studies, traditional ecological knowledge studies and environmental impact assessments across Canada.